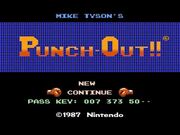 Punch-Out!! is a video game made by Nintendo. It was originally released for the Nintendo Entertainment System in 1987. In this game, players take control of a diminutive boxer named Little Mac and help him defeat opponents to become champion of the WVBA (World Video Boxing Association).
References in Captain N
Edit
Characters
Edit
The first version of Punch-Out!! to be released in the United States was Mike Tyson's Punch-Out!!, which featured Mike Tyson as the final opponent. However, when Tyson lost his title to James "Buster" Douglas, Nintendo allowed its license to use him as a special character expire, replaced Tyson with Mr. Dream, and re-released the game as Punch-Out!! in 1990.
External Links
Edit
Ad blocker interference detected!
Wikia is a free-to-use site that makes money from advertising. We have a modified experience for viewers using ad blockers

Wikia is not accessible if you've made further modifications. Remove the custom ad blocker rule(s) and the page will load as expected.