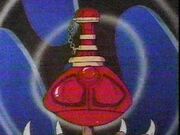 The Potion of Power is a magical potion that is capable of restoring Ganon's lost powers. When Ganon was left weakened after a battle with Link, Mother Brain sent Eggplant Wizard and King Hippo to look for the potion in hopes of winning Ganon to her cause.
Appearances
Edit
Ad blocker interference detected!
Wikia is a free-to-use site that makes money from advertising. We have a modified experience for viewers using ad blockers

Wikia is not accessible if you've made further modifications. Remove the custom ad blocker rule(s) and the page will load as expected.