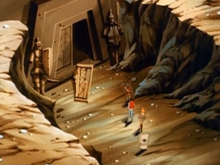 Parapa Palace is a palace located in a desert on Hyrule. It is based on the dungeon of the same name from Zelda II: The Adventure of Link.
Kevin Keene had to travel to Parapa Palace along with Link, Princess Zelda, and Gameboy in search of a Golden Key and parchment they needed to find the Potion of Power. They encountered a Geldarm on their way to the palace and Wosu, Stalfos, and a Doomraddle inside, then defeated Horsehead to claim the golden key.
Appearances
Edit
Ad blocker interference detected!
Wikia is a free-to-use site that makes money from advertising. We have a modified experience for viewers using ad blockers

Wikia is not accessible if you've made further modifications. Remove the custom ad blocker rule(s) and the page will load as expected.