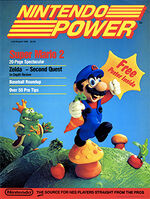 Nintendo Power was a magazine published by Nintendo of America that focused on games for Nintendo consoles, providing strategies, tips, tricks, reviews, and previews. It was Nintendo's official magazine in North America.
The first issue of Nintendo Power was dated July/August 1988 and spotlighted Super Mario Bros. 2 for the NES. On August 21, 2012, Nintendo announced that it would not renew its licensing agreement with the company that published Nintendo Power, and the 285th and final issue of the magazine was released on December 11, 2012.
"Captain Nintendo", a short story by Randy Studdard that appeared in the November/December 1988 and January/February 1989 issues of Nintendo Power, was the inspiration for Captain N: The Game Master.
External Links
Edit
Ad blocker interference detected!
Wikia is a free-to-use site that makes money from advertising. We have a modified experience for viewers using ad blockers

Wikia is not accessible if you've made further modifications. Remove the custom ad blocker rule(s) and the page will load as expected.