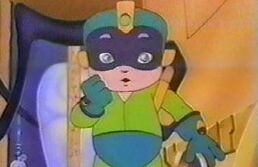 Mega Man is a character in the cartoon continuity of Captain N: The Game Master. He is loosely based on the original video game character of the same name.
Mega Man is a robot from Megaland. He is a member of the N Team and lives in the Palace of Power in Videoland. He is voiced by Doug Parker.
Personality
Edit
Mega Man is shown to be brave, loyal, and very strong-willed. He tends to use the word "mega" in every sentence and sometimes makes puns. ("Kevin In Videoland")
Although Mega Man cares about his friends enough to fight for them, he dislikes being a robot and wants to be alive like they are, eagerly going on a quest that promises him a chance to become human. ("Happy Birthday, Megaman")
Abilities
Edit
Relationships with Other Characters
Edit
Princess Lana
Edit
Mega Man is respectful of Lana and is pleased to serve her. Lana says Mega Man fought "bravely and well" during the seven-year siege on the Palace of Power. ("Kevin In Videoland")
Kevin Keene
Edit
Mega Man was initially upset at Kevin for not agreeing to help them and/or upsetting Lana, but he soon comes to trust Kevin and have confidence in him. ("Kevin In Videoland")
Simon Belmont
Edit
Mega Man is known to argue with Simon and cause him discomfort sometimes. ("Kevin In Videoland")
Kid Icarus
Edit
Mega Man is known to argue with Kid Icarus sometimes. However, he also apparently has faith in Kid Icarus' intuition, since he comes to trust Kevin based on the fact that Kid Icarus trusts Kevin. ("Kevin In Videoland")
Ad blocker interference detected!
Wikia is a free-to-use site that makes money from advertising. We have a modified experience for viewers using ad blockers

Wikia is not accessible if you've made further modifications. Remove the custom ad blocker rule(s) and the page will load as expected.