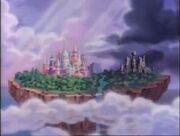 Final Fantasy, based on the game of the same name, is one of the many medieval/fantasy worlds in Videoland. The world is ruled over by a prince who is an old friend of Princess Lana and is also home to the villainous Astos, a dark elf who leads a legion of monstrous warriors. The world appears for the first and only time in the series finale.
Appearances
Edit
"The Fractured Fantasy of Captain N" - When the N Team goes to visit the prince that Lana is friends with, Astos (masquerading as an elven friar) hypnotizes Kevin and turns him evil - thereafter using him to train his soldiers. The N Team manages to get a hold of the Light Crystal which turns Kevin back, and Astos' evil plot is ultimately foiled.
Ad blocker interference detected!
Wikia is a free-to-use site that makes money from advertising. We have a modified experience for viewers using ad blockers

Wikia is not accessible if you've made further modifications. Remove the custom ad blocker rule(s) and the page will load as expected.