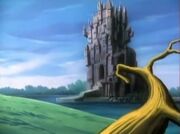 Castlevania is a world on which the main landmark is the eponymous, massive haunted castle. Simon Belmont hails from this world. The castle itself is home to all kinds of things that go bump in the night - vampires, zombies, werewolves, and many others - and the leader of this fiendish army is the most evil vampire of them all, the Count. The N Team has visited Castlevania on numerous adventures.
Appearances
Edit
Season One
Edit
Season Three
Edit
"Return to Castlevania" - Simon goes to Castlevania for an awards ceremony but is deemed a traitor by the person running the ceremony (who is actually the Count in disguise). Simon and Kevin fight through Castlevania, meeting Alucard, the Count's son, in the process. Eventually, Simon's good name is restored and the Count is put down for the count.
Ad blocker interference detected!
Wikia is a free-to-use site that makes money from advertising. We have a modified experience for viewers using ad blockers

Wikia is not accessible if you've made further modifications. Remove the custom ad blocker rule(s) and the page will load as expected.